9 days Dahabiya Cairo and Luxor Aswan
the best 9 days Dahabiya Cairo and Luxor Aswan   Imagine living in heaven for 9 days! This is exactly what you will get when you book our 9-days luxury Cairo and Nebyt Dahabiya tour package. You will witness some of the most enchanting Egyptian tourist attractions in the world. All the captivating attractions of Cairo like the Great Pyramids of Giza, and the Sakkara Complex.
Know more about the attractions you will visit on ( 9 days Dahabiya Cairo and Luxor Aswan )
Meet and greet service by our representatives at airports
The assistance of our guest relations during your stay
Entry Visa for Egypt provided upon arrival at Cairo Airport
All airport transfers by a private air-conditioned deluxe vehicle with Free WIFI
Accommodation for 2 nights in Cairo including daily breakfast
Accommodation for 1 night in Luxor   Hotel
Accommodation for 5 nights onboard Dahabiya on a full board basis
All sightseeing tours in Cairo – privately guided tours
All sightseeing tours on the cruise sharing Dahabiya group
All sightseeing tours in Cairo, Luxor, and Aswan as mentioned in the itinerary
Entrance fees to all sites as indicated on the itinerary.
Tea, Coffee, and Soft Drinks during Meals onboard your Dahabiya
Egyptologist  English-speaking tour guide during your tours
Lunch at a good quality local restaurant
Bottled water during your tours and transfers
All service charges and applicable taxes included
International Airfare
Domestic flight Cairo/Luxor – Aswan/Cairo
Any optional tours
Personal spending
Tipping
the best 9 days Dahabiya Cairo and Luxor Aswan Arrival in Cairo – Welcome to the land of Pharaohs.
Your tour manager will meet and assist you at Cairo International Airport and provide you with an entry visa for Egypt . and then he will escort you to your hotel by exclusive air-conditioned deluxe vehicle.
At the hotel, the tour manager will assist you to have a smooth check-in and review your holiday itinerary with you to establish and confirm pick-up times for each tour.
Overnight in Cairo.
Giza plateau
After breakfast, you will be accompanied by your personal guide to Giza Plateau to visit the Great Pyramids of Giza: Cheops, Chefren, Mykerinus, and also the famous Sphinx and Valley Temple facing the great statue. There is an additional visit to the Solar Boat in front of Cheops Pyramid (extra ticket on spot). Lunch will be served in a good quality restaurant.
Sakkara
Sakkara area to visit Sakkara Complex and the first pyramid ever built, Djoser Pyramid. Then, move to Memphis; the Old Kingdom capital and famous Necropolis. Overnight in Cairo. Nebyt Dahabiya.
Meals:
Breakfast
Lunch
Visits:
Great Pyramids of Giza, Sphinx
Valley Temple
Optional visit to Solar Boat, Sakkara Complex, Djoser Pyramid, Memphis.
After taking breakfast at your hotel in Cairo, you will be escorted by your private guide to visit the
Egyptian Museum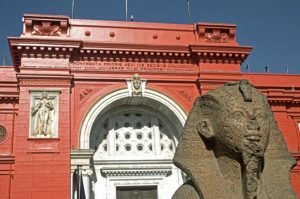 .
Lunch will be taken throughout the tour at a local restaurant. Then, continue driving to Islamic Cairo, where you will be able to explore Khan El Khalili, Cairo's oldest bazaar.
khan el Khalili
you will be transferred to Cairo International Airport for your flight to Luxor. Upon your arrival in Luxor, you will get transferred to your hotel.  Overnight in Luxor.
Meals:
Breakfast
Lunch
Visits:
Egyptian Museum
Khan El Khalili
Karnak temple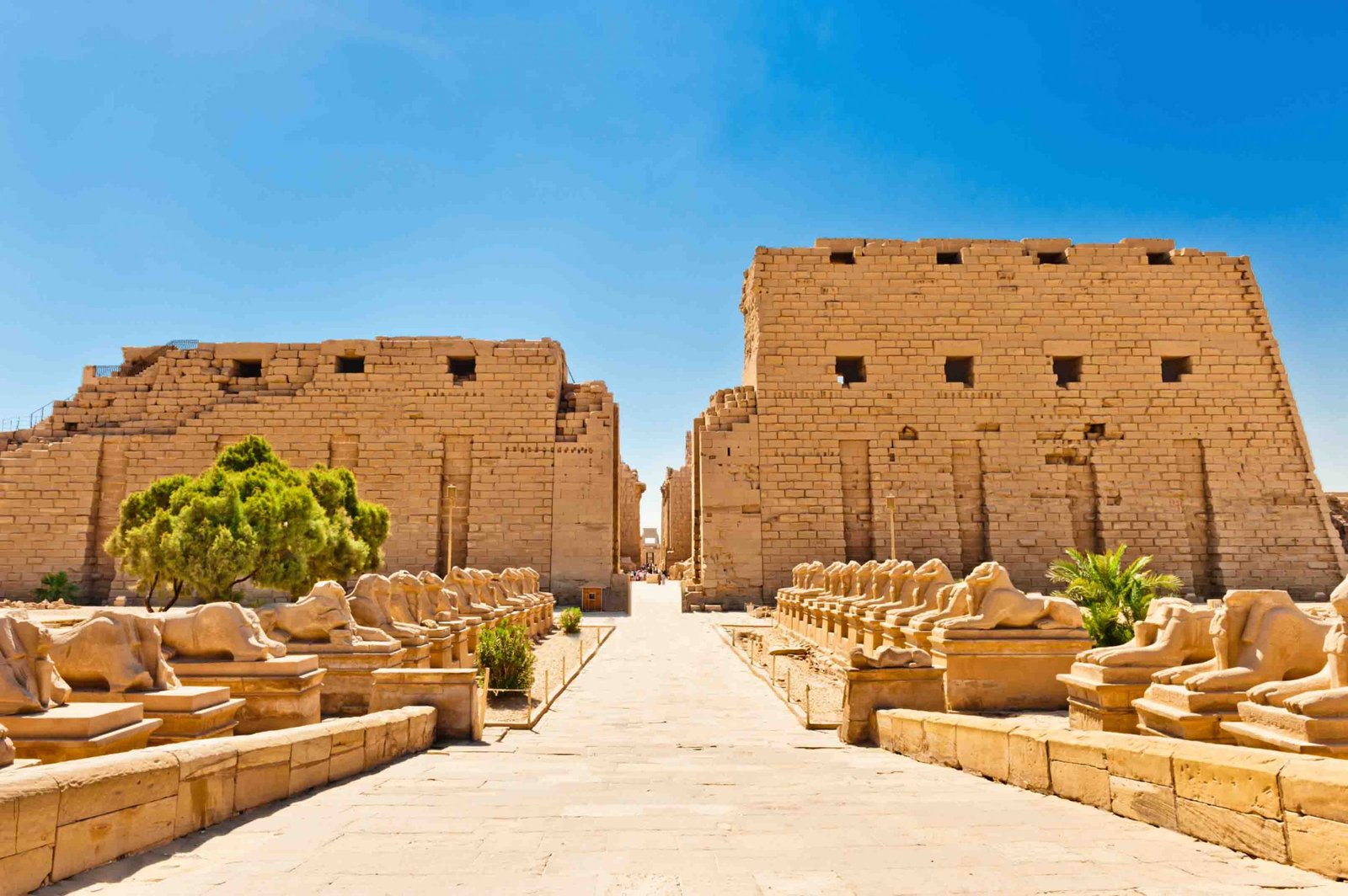 visits the impressive Karnak Temple in the early morning
The Karnak Temple dates back from around 2055 BC to around 100 AD. It was built as a cult temple and was dedicated to the gods Amun, Mut, and khonsu. Being the largest building for religious purposes ever to be constructed, the Karnak Temple was known as the "most select of places" by ancient Egyptians.
During the New Kingdom, the Karnak Temple Complex was the center of the ancient faith while power was concentrated at Thebes (modern-day Luxor) and its significance is reflected in its enormous size.
In addition to its religious significance, it also served as a treasury, administrative center, and palace for the New Kingdom pharaohs. It is to this day considered as the largest temple complex ever constructed anywhere in the world.
head out to visit the Royal Cemetery of 62 Pharaohs and the
then join our Egyptologist tour guide on a tour to visit the gorgeous Luxor tourist attractions starting with: Its royal burials are located in the West Bank of Luxor which has 24 terrific royal tombs and in total of 64 tombs according to the last discovery from 2008 to 2014.
It's the final resting place of Egypt's rulers from the 18th to the 20th dynasty; it is home to tombs including the great Pharaoh Ramses II and King Tutankhamun. The tombs were well stocked with all the material goods a ruler might need in the next world. Most of the decoration inside the tombs is still well-preserved.
you will get transferred to embark on your Dahabiya from Esna.
Meals:
Visits:
Karnak Temple
Royal Cemetery, Valley of the Kings
Edfu, Horus Temple
The Temple of Horus at Edfu is widely considered to be the most impressive of all of the Nile-side temples along the journey between Luxor and Aswan. It is a required stop by all of the cruise ships that make the trip, also stopping at Esna and Kom Ombo.
Like at Esna, the temple at Edfu is a late construction. It was built during the Greco-Roman Period, but the builders painstakingly preserved the form of Egypt's true pharaohs. As a result, a visit to Edfu allows you to see what all of the other ruined temples around Egypt might have looked like had they been built 2000 years later.
– Enjoy dinner on board.
Overnight aboard your cruise at El Fawaza Island.
Meals:
breakfast onboard enjoying  sailing to Gebel El Silsila
– Visit Gebel El-Silsila after having lunch
– Enjoy a special BBQ Dinner.
Overnight aboard your cruise at Beshir Island.
Meals:
Breakfast
Lunch
Dinner
Visits:
Gebel El Silsila.
– Visit Kom Ombo Temple
Kom Ombo
Along with Esna and Edfu, Kom Ombo is the third major stop that most of the Nile cruises between Luxor and Aswan make on their journey. Located only 30 miles north of Aswan, it is also easy to visit Kom Ombo on a day trip by car, however, The setting of this Temple of Sobek, the crocodile god, makes an approach by water the far superior way to visit this site. The temple is perched atop a picturesque bluff alongside the river and while there are no longer any crocodiles in the river or in the sacred lake inside the temple complex, this riverside temple is still worthy of a visit.
Like the other two sites between Luxor and Aswan, Kom Ombo dates from the Ptolemaic Dynasty and it was only completed under Roman rule. The temple has a dual dedication to Sobek, as well as Horus, and the plan of the temple reflects this dual purpose.
Sail to Herdiab Island
Enjoy a relaxing lunch at Herdiab sandy beach where you can swim and enjoy the amazing nature
dinner on board Nebyt Dahabiya &Luxury Cairo and Luxor Aswan.
Overnight aboard your cruise Near Aswan Bridge
Visits:
Herdiab Sandy Beach.
Meals:
Breakfast
Lunch
Dinner
Have breakfast on board and enjoy sailing to Aswan.
Go on unique Aswan Excursions
Philae Temple
This beautiful temple complex is one of the most picturesque in all of Egypt. It sits on Aglika Island just south of the old Aswan Dam and you must ride a water taxi to the island to get to the ruins. The temple was moved to its current location following the construction of the High Dam, which threatened to submerge it permanently.
The careful reconstruction at the current site was carefully completed, painstakingly preserving the original appearance and layout of the complex and even landscaping the island to match its former location.
Unfinished Obelisk
The Unfinished Obelisk is a rare opportunity to consider what this process might have been like and just how difficult it was to shape and carve the great stone blocks that makeup Egypt's many monuments.
This huge obelisk would have stood 140 feet in height, the largest even in Egypt. It was to be carved from the Red Aswan granite that decorates many of Egypt's greatest monuments and for which the city is famous. This greatest of all of Egypt's monoliths, however, was never finished. At a late stage in its formation, a flaw in the rock was discovered and it was abandoned.
High Dam
When construction began on the High Dam in 1960, it was the most heralded part of President Gamal Abdel Nasser's effort to develop Egypt for all Egyptians. While the dam is certainly not the largest in the world, it is an impressive engineering feat nonetheless, over 360 feet tall and 12,500 feet across.
The dam was completed in 1971 and the huge reservoir behind it, named for President Nasser, finished filling in 1979.
– Enjoy lunch on board
– Have dinner and a farewell party on board.
Overnight aboard your cruise at Aswan West Bank
Meals:
breakfast onboard disembark get transferred to Aswan Airport for your flight home via Cairo Airport.
Meals:
Pricing policy
Prices are quoted in US Dollars per person per trip except during Christmas, New Year & Easter holidays.
Children Policy