Nubian Museum
Nubian Museum Opened in 1997, the Nubian Museum is a belated but well-executed,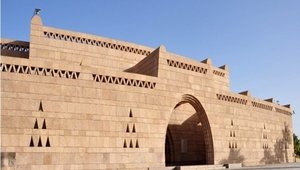 tribute to the culture and influence of Nubia and the Nubian people on the history of Egypt.
This ancient culture, every bit as old as that of Ancient Egypt, existed along the
banks of the Nile for millennia in the areas we call southern Egypt and northern Sudan today.
It nearly destroyed by the construction of the High Dam, completely
submerging the ancient heartland of Nubia, and over 100,000 people to relocate.
Nubian Museum
The museum houses a collection of artifacts from the Nubia region,
which tell the story of the development of civilization in the southern
Nile Valley from prehistory all the way through the pharaonic ages,
the arrival of Christianity and Islam, and the construction of the dam in the 1960s.
The plight of the Nubia people highly politicized issue. In the rush to develop
the country in the 1950s and '60s, the Egyptian government did not provide
adequate compensation or sufficient planning to resettle the people
Nubian Museum
whose livelihoods affected by projects like the High Dam.
The preservation of Nubia's cultural legacy equally neglected. International
organizations came in to move some of the most famous monuments of Nubia
to high ground, like the Abu Simbel temples. Others  dismantled and shipped
abroad as compensation for aiding this effort. The Dendar Temple that now
stands in the New York Metropolitan Museum one such gifted Nubian monument.
The Nubian Museum intended to help rectify this injustice. While
Nubian Museum
that may not be possible, especially since it still makes no mention of the
consequences of the dam for the Nubian people, it very effective at telling
the story of the region and providing a glimpse of the culture that continues to exist here.
Reconstructions of traditional Nubian houses with artwork salvaged from
areas that now underwater particularly striking.
The museum near the Fatimid Cemetery, which is full of small mausoleums
dating from the 9th century. Some of the tombs here belong to local saints
Nubian Museum
and they decorated accordingly with flags and often visited by local people
seeking blessings. The cemetery stands next to the ancient granite quarry
the Unfinished Obelisk is located. At nearly 140 feet long,
it would have been the largest obelisk ever carved by the ancient Egyptians.
It completely finished on three sides but left attached to the bedrock
when a flaw in the stone discovered. Visit these two sites along with
it make for a great day of activities all located within a small area to minimize walking.