3 DAYS 2 NIGHTS VISITING CAIRO HIGHLIGHTS Cairo tour package includes 2 nights' hotel accommodation in Cairo on a bed and breakfast basis, all transfers by Private A/C Vehicle, 1 Full day tour in Cairo,
Know more about the attractions you will visit on ( 3 DAYS CAIRO HIGHLIGHTS )
2 nights of hotel accommodation in Cairo on a bed and breakfast basis.
All transfers in Cairo by Private A/C Vehicle
1 Full day tour in Cairo visiting the Pyramids, Sphinx, Memphis, Sakkara & Dahshur
Lunch included for 2 days
Entry inside the great pyramid
Full day tour Visiting Egyptian Museum
Multilingual expert Egyptologist guide.
All your tours and excursions are by the A/C bus.
Snacks Bag during each day Tour includes
The service of meet and assist at all your destinations.
All your visits include entrance fees.
Visa Entry for Egypt.
Personal items.
Tipping.
Any other items not mentioned.
Any optional tours Such as Inside the Pyramids or Mummies room at the Museum
your tour starts with your Arrival at Cairo airport, our representative will meet you at the airportMeals: N/A
secondly, at 8:00 am Pickup from your hotel in either Cairo or Giza and start your full-day tour visiting
The Great Pyramids of Giza and the Great Sphinx
The number one activity in Cairo is by far the Great Pyramids of Giza and the Great Sphinx. Dated almost 5000 years ago, these monuments and their great conservation state are one of the greatest things you can experience with the naked eye. Located in the Giza Complex on the west side of the Nile River banks, the Great Pyramids and the Great Sphinx are Cairo's best-kept treasures.
It has many tombs. It consists of the great Giza Pyramids (Khufu, Khafre, Mankaure) that are considered to be one of the seven wonders of the world, and Khufu Pyramid is considered to be the grandest in the complex… This complex also contains the amazing Sphinx and the Valley Temple.
The Great Pyramid
It s an astonishing engineering accomplishment as it s the greatest Pyramid that has ever been built. It was built by King Khufu. It contains about 2300000 blocks. These white Tura limestone blocks give the pyramid a smooth surface.
The Great Sphinx
It is the oldest known monumental sculpture all around the world, all tourists come from around the world to witness the beauty of its shape as it has ahead of a man (Khafre s head) and a body of a human which has many spiritual and mythical meanings.
Lunch included
 in-between visits at Local Restaurant Based on Full Meals for each Person but Beverages are not included. 
is located only 27 km southwest away from Cairo. Visit the Step Pyramid (Built for king Zoser),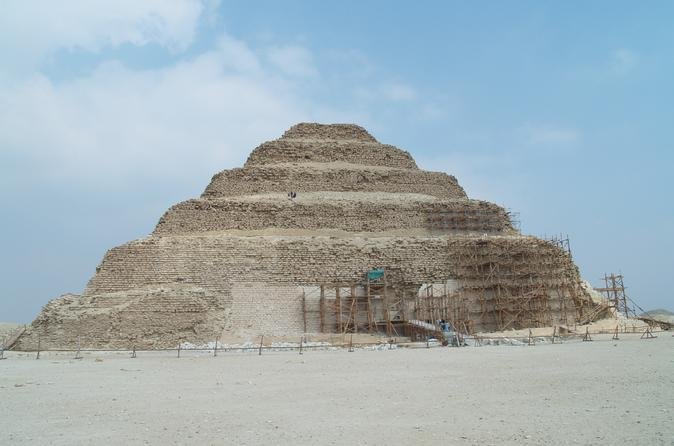 witch considered an important .part of the process of the pyramid evolution from the simple mastaba to its widely known form.
Dahshur Pyramids 
 firstly Dahshur area is a royal necropolis located in a desert on the West Bank of the Nile approximately 40 kilometers (25 mi)south of Cairo.  known chiefly for several Pyramids. two of which are Among the oldest, largest, and best-preserved in Egypt, built from 2613–2589 BCE. Then Visit Memphis,
the ancient capital of Egypt, where the colossal statue of Ramses II and the great Alabaster Sphinx are. this City Dates back to 3100 B.C. you will be transferred back to your Hotel
Meals included
Breakfast & Lunch
that starts at 9:00 am Pickup. from your hotel in Cairo or Giza By Tours guide to Start your half-day tour. visiting the Egyptian Museum of antiquities. It displays the largest and most. precious items of Egyptian art in the world. It exhibits a rare collection of over 250,000 genuine artifacts that date as far back as 5000 years
Pricing policy
Prices are quoted in US Dollars per person per trip except during Christmas, New Year & Easter holidays.
Children Policy