2 DAYS and 1 NIGHT CAIRO - LU XOR
2 adore DAYS 1 NIGHT TRAVEL PACKAGE CAIRO & LUXOR includes 1-night hotel accommodation in Cairo on a bed and breakfast basis, all transfers in Cairo & Luxor, 1 Full day tour in Cairo, 1 Full day tour in Luxor.
Know more about the attractions you will visit on ( 2 DAYS and 1 NIGHT CAIRO - LU XOR )
1-night hotel accommodation in Cairo on a bed and breakfast basis.
All transfers in Cairo & Luxor.
1 Full-day tour in Cairo visiting the Pyramids, Sphinx, Egyptian Museum
Full-day tour in Luxor visiting East & West Bank
Multilingual expert Egyptologist guide.
All your tours and excursions are by the A/C bus.
Snacks Bag during each day Tour includes
The service of meet and assist at all your destinations.
All your visits include entrance fees.
Our prices include all taxes and services.
Visa Entry for Egypt.
Domestic flight Cairo / Luxor / Cairo
Personal items.
Tipping.
Any other items not mentioned.
Any optional tours Such as Entering any of the Pyramids, Mummies Room, Tutankhamen Tomb
start with your Arrival at Cairo airport, our representative will meet you at the airport then you will be transferred by a private A/C car to your hotel. Leave the Luggage then around 8 am Start your full-day tour visiting Giza Pyramids Where you Visit the Great Pyramids.
Giza pyramids
Cheops, Chephren & Mykerinos then Visit the Valley Temple where the Priests Mummified the dead body of King Chephren Also there you will have a close-up look at The Sphinx -The legendary guardian stands by the huge funeral complex with its lion body and the head of king Chephren.
in-between visits at Local Restaurant Based on Full Meal for each Person but Beverages are not included Then Continue your day tour to the Egyptian Museum of antiquities.
Cairo museum
It displays the largest and most precious items of Egyptian art in the world. It exhibits a rare collection of over 250,000 genuine artifacts that date as far back as 5000 years, including an exclusive exhibit dedicated to the Tutankhamon – A collection of treasures gold, and jewelry. that was buried in his tomb for over 3,500 years before they were .discovered in the 1920s when his tomb was excavated
at the end of your tour, you gonna transferred back to your Hotel.
the second day starts with Breakfast at the Hotel. then early morning around 4:00 check out and Transfer to the domestic airport to take your flight to Luxor. Arrive at Luxor by 6:00 am Our representative will meet you and then start your Full Day Tour to The West Bank visiting the Valley of Kings-Deir El Bahari Temple-Colossi of Memnon.
Valley of the Kings
Start your day with an impressive breakfast meal, and then join our Egyptologist tour guide on a tour to visit the gorgeous Luxor tourist attractions starting with: Its royal burials are located in the West Bank of Luxor which has 24 terrific royal tombs and in total 64 tombs according to the last discovery at 2008 to 2014.
It's the final resting place of Egypt's rulers from the 18th to the 20th dynasty; it is home to tombs including the great Pharaoh Ramses II and King Tutankhamun. The tombs were well stocked with all the material goods a ruler might need in the next world. Most of the decoration inside the tombs is still well-preserved.
Hatshepsut Temple
It is a mortuary temple at Deir El-Bahri. It was built by Queen Hatshepsut who is considered to be one of the most formidable women in Ancient Egypt.
The queen is distinguished as one of the most successful pharaohs of Ancient Egypt, but she was not the only female ruler in Egypt's history. Her reign was peaceful and prosperous and as a result, it witnessed a wide variety of achievements one of them was her own mortuary temple which commemorates all her great works on its walls.
Colossi of Memnon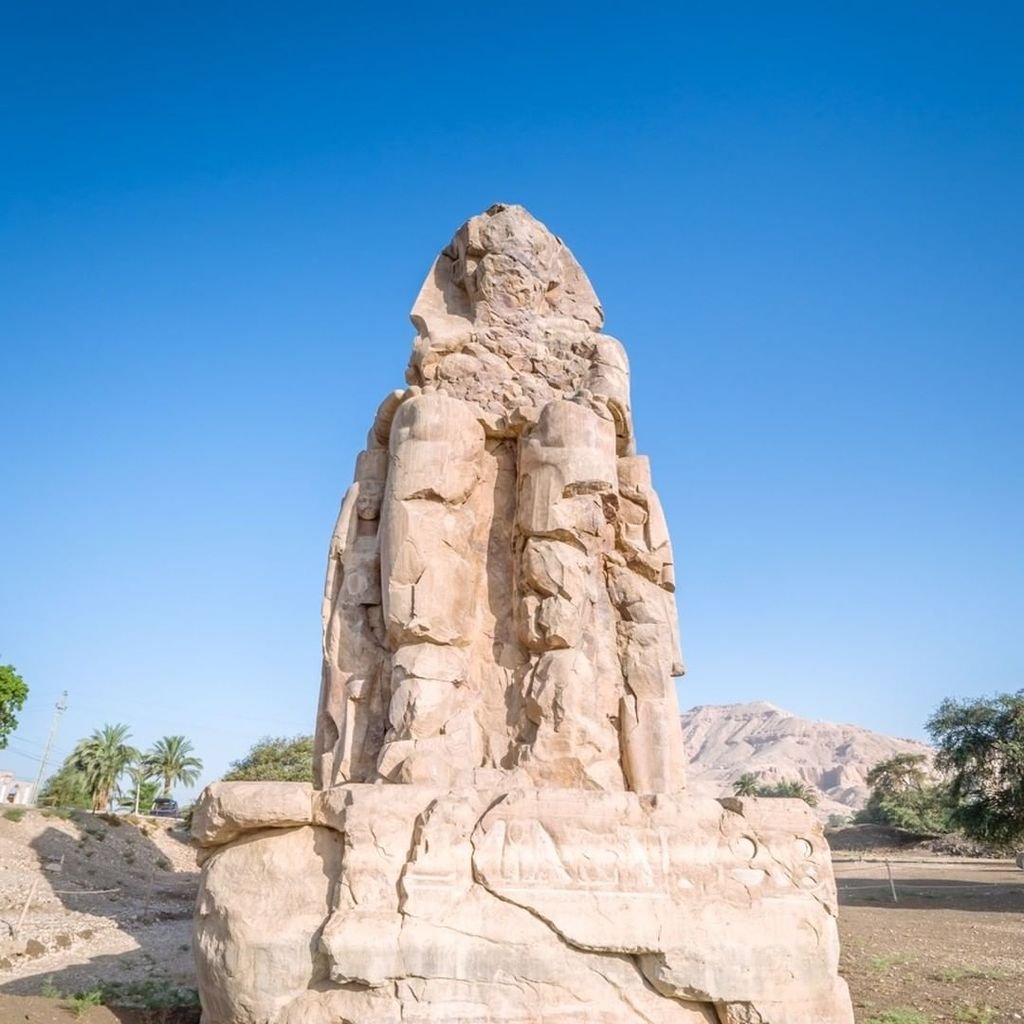 They are two incredible massive stone statues of the royal Pharaoh, Amenhotep III. They depict him in a seated position, and they are made from blocks of quartzite sandstone.
The legendary Colossi of Memnon are the guardians of the Mortuary Temple of Amenhotep III. The temple consists of two spectacular twin statues sitting at the entrance of Luxor and it gained its fame due to its majestic appearance.
Lunch is included in between visits at a Local Restaurant Based on Full Meal for each Person but Beverages
Then visit The East Bank visiting Karnak and Luxor Temple Excursion to the Luxor Temple to see its courtyard and the granite statues of Ramses. the Great Proceed by carriage or bus to Karnak, which is a series of temples
Karnak temple
built-in different reigns. Starting by the Avenue of Sphinxes visit the Unfinished Propylon the Hypostyle Hall with its 134 gigantic columns, the Obelisks of Queen Hatshepsut and Tuthmosis III, the temple of Amon adorned with lotus and papyrus designs, the Granite Scarbeus of Amenophis III, and the Sacred Lake. Around.
10:30 pm Transfer to the domestic airport to take your flight back to Cairo. Arrival, meet & assist by our local representative then stay at the airport waiting for your international Flight
Pricing policy
Prices are quoted in US Dollars per person per trip except during Christmas, New Year & Easter holidays.
Children Policy