12 Days tour Pyramids, Nile Cruise & Oases
Day 1:
Arrival Cairo – Welcome to the land of the Pharaoh's
12 Days tour Pyramids, Nile Cruise & Oases start with your Arrival at Cairo airport, Upon your arrival, you will find our representative waiting for you, then you will be transferred by A/C car to your hotel. Overnight in Cairo.
Day 2:
Cairo Sightseeing – Train to Aswan
Breakfast at your hotel in Cairo and then at 09:00 AM you will be met and accompanied by your personal guide to Giza Plateau to visit one of the seven wonders of the ancient world, the Great Pyramids of Cheops, Chefren, Mykerinus, famous Sphinx and
Valley temple facing the great statue. Lunch at a good quality local restaurant. Then head to the enjoying Treasures room for the child king Tutankhamen. Later transfer to Giza train station taking the sleeper train from Cairo to Aswan for about 14 hours. Dinner and breakfast will be served onboard – overnight inside your compartment. (There is another option with domestic flight upon your request You will be met at Aswan station, then transferred to your hotel, Optional to enjoy a tour to one of Egypt's top tourist attractions, Abu Simbel Temples.
Abu Simbel temple
which were originally carved out of the mountainside during the reign of Pharaoh Ramesses II approximately in the 13th century BC, as the last monument to himself and his Queen Nefertari. Overnight in Aswan. Meals: Breakfast
Day 4:
Aswan Nile Cruise Tours
Breakfast at your hotel in Aswan. Then you will be picked up from the hotel at 10:00 AM and then transfer to embark on your Nile River Cruise before Lunch at 11:00 a.m, then enjoy visiting the world-famous High Dam, The awesome Philae Temple,
which is devoted to the two goddesses Isis and Hathor, and the largest known ancient obelisk, located in the northern region of the stone quarries of ancient Egypt, the Unfinished Obelisk. Dinner on board and overnight in Aswan. Meals: Breakfast, Lunch, Dinner
Day 5:
Kom Ombo and Edfu Temples
Sail to Kom Ombo, have breakfast on board, and visit the Temple shared by two gods Sobek & Haeroris in Kom Ombo. Sail to Edfu, lunch on board after that visit the best-preserved cult temple in Egypt, Horus Temple in Edfu. Take afternoon tea during sailing to Esna. Dinner and overnight on board.
Meals: Breakfast, Lunch, Dinner
Day 6:
Luxor Nile Cruise Tours
Sail to Luxor – have breakfast on board then visit the West Bank, take an excursion to the royal cemetery for 62 Pharaohs, Valley of the Kings,
Valley of the kings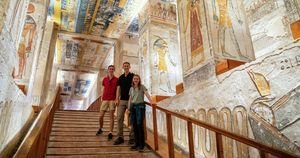 then to the mortuary Temple of Queen Hatshepsut, which was built by the architects of the New Kingdom Pharaoh Hatshepsut approximately in the 15th century BC at El-Deir El-Bahari & the Colossi Memnon. Lunch on board.
PM tour to visit the Karnak complex and Luxor Temple at the East Bank of the Nile River in Luxor and then drive back to the cruise ship. Dinner on board and overnight in Luxor. Meals: Breakfast, Lunch, Dinner
Day 7:
Luxor Nile Cruise – Baris Oasis
Breakfast on board Nile cruise in Luxor followed by disembarkation at 08:00 AM and then transfer by a private air-conditioned vehicle to Baris Oasis about 5 hours driving, visiting Dush Temple, and spend the first night camping in the Western Desert.
Meals: Breakfast, Lunch, Dinner
Day 8:
Kharga Oasis – Dakhla Oasis
After breakfast moves onto Kharga Oasis to visit Qasr El Labkha – a Roman fortress on the old caravan route, and the oasis ethnic museum. After that visit, the Roman Temple of Hibis & Nadora from outside as well as the early Christian cemetery with its chapels painted with murals at Bagawat, nearby.
We drive on, to Dakhla, where we spend the night at an Oasis-style hut with reed huts, communal showers, and basic facilities. Overnight in Dakhla.
Meals: Breakfast, lunch, dinner
Day 9:
Dakhla – Camel ride at the Desert
After breakfast, head to the fabulous medieval mud-brick town of Al Qasr, exploring the timeless streets, seeing the old school, an ancient olive press, and the granary. We also enjoy a trip to the Roman burial ground Mezzawaqqah from outside and the Roman Temple Deir El Hagar in its serene surroundings. We return for lunch and spend the afternoon relaxing in the hot spring while waiting for the heat of the day to pass. In the late afternoon, we set off on camels. riding through a desolate windswept landscape to the base of a Great escarpment. Camel ride for about 10 km. Overnight camping in the desert.
Meals: Breakfast, Lunch, Dinner
Day 10:
Farafra Oasis – White Desert
North of Dakhla is Farafra Oasis where we have time to visit Badr Museum and enjoy a swim at the natural sulfur spring at Bir Seth. A little further on we enter the White Desert, a spectacular region of wind-eroded limestone formations. The continual erosion has left a layer of fine white dust on the desert sands, hence the name 'white desert'. We enjoy a sunset walk in this surreal landscape and spend the night camping under the stars. Note it can be very cold in the winter months (Oct-Mar) so make sure you are well rugged up if you are traveling at this time. Overnight camping in The White Desert. Meals: Breakfast, Lunch, Dinner
Day 11:
Bahariya Oasis – Cairo
After breakfast, transfer to visit Crystal Mountain and the Black Desert. Upon arrival in Bahariya, enjoy a local tour of the hilltop ruins 'the English House.
Then transfer to see Museum of Golden Mummies, Tombs of the Nobles, Alexander Temple, Temple of Ain Meffetla. After that transfer to Cairo from Bahariya about 4 hours drive. Overnight in Cairo. Meals: Breakfast, Lunch
Day 12:
Cairo – Fly Back Home
Breakfast with free time at your hotel before checking out at 12:00 PM, then you will be picked you up by our representative to transfer you to Cairo International Airport for final departure. Meals: Breakfast