best 2-day tour to Luxor from Hurghada
day-1
Karnak Temple Is where the heavens smile on this holy land, it was constructed 4000 years ago on 247 acres of land containing three main temples & several enclosed and outer temples. For more than 1500 years. it has been one of the biggest religious man-made constructions on earth and the worship center of the Theban triad of Amun, Mut, & Khnsou.
Then you will move to
Luxor is a lunar flower from paradise constructed in 1400 BC  during the reign of Pharaoh Amenhotep III and was known as "Ipetresyet" which means the southern sanctuary and holds various festivals including the opet festival. it was dedicated to the God Amun which symbolizes the rejuvenation of kingship.
Lunch will be served on an island
You will then head to the hotel for the overnight.
day-2
around 8 am the tour guide will become to pick you up from your hotel at Luxor and start over .directly explanation about the west bank sight-seen such as the valley of the kings how is.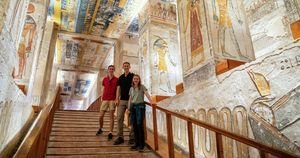 the founder of it and when they start to cut it over how many tombs it's included and so on then you. will arrive there to enjoy the marvelous seen inside the tombs. then you gonna headed to the unique queen of the ancient Egyptian empire the great queen Hatshepsut.
and how she ordered to build it and how was the main architect and so on .then you gonna enjoy with the sight seen then you will head to someplace where you will see the ancient lifestyle and ancient handcrafted. then you gonna see the biggest colossal in Egypt two colossi of Memnon.
finally, you will have fantastic lunch then will drive you back to Hurghada safety Hurghada 2 day tour to Luxor. Imagine if you can catch a glimpse of the heavens and feel the beauty and might of the gods as you explore the city of Luxor for full two days as you step away from the tropical natural allure of Hurghada and return back to the time of glory and magic. You will explore the mysteries of the city and open your eyes to the wonders of this holy land. Be a witness to the holy Karnak Temple, Hatshepsut Temple. Valley of the Kings, and enjoy a unique experience with the Sound and Light Show at Karnak.