cheap 1-day tour to valley of the kings and Hatshepsut temple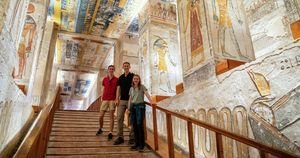 Descend into deep tombs, explore a royal necropolis. then enjoy a meal with views of the Nile River on a full-day tour of Luxor's West Bank. You'll start with 3 tombs. where elaborate paintings depict images from daily life and the afterword then continue.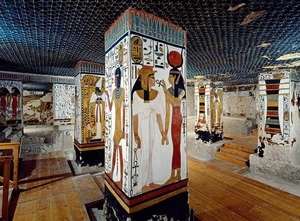 the final resting place for dozens of queens and princes. After a stop by the Colossi of Memnon. pause for a leisurely meal before the tour concludes. You will be picked up by a local expert tour guide from your Luxor (Hotel, Nile Cruise, Train station, Airport. and drive to visit the Valley of the Kings on the west bank of Luxor.
The Kings valley was the burial palace of the pharaohs of the ancient Egyptian New Kingdom(1550 – 1070 BC), where you will see 3 tombs of the most famous Pharaohs who ruled Egypt from Luxor. Like The tomb of Ramses IV. Merenptah "son of Ramses II" Tomb. the tomb of Thutmose III,(Valley of the Kings and Hatshepsut Temple.
the founder of the ancient Egyptian Empire, the tomb of Ramses III, Ramses I. Tomb of Tausert and Setnakht Guides are not allowed inside the tombs, but your expert Tour guide will tell you what to look for inside the elaborately decorated tombs. There is an additional cost to visit the tomb of King Tutankhamen, Seti 1, Ramses VI.(payable on the spot.