Luxor Overnight From Cairo By plane
Day 1:
Cairo – Luxor East Bank tour
Luxor Overnight From Cairo By plane starts with meeting our representative then  Pick up from the hotel in Cairo and transfer to take the flight to Luxor. Arrive and you will be transferred by an A/C car to start your East bank of Luxor tour to visit the Karnak Temples,
Karnak temple
the greatest example of worship in history and was dedicated to the God Amon, his wife Mut, and their son Khonsu. Then move to Luxor Temple. It was built by Amunhotep III in the 18th Dynasty in the New Kingdom and it was completed by Ramesses II during the 19th Dynasty. dedicated to the great god Amun-Ra, his wife Mut, and their son Khonsu together representing the Theban triad. Enjoy visiting the Obelisk of Ramses II in front of the 1st Pylon
Start your day visiting the West Bank of Luxor. First, visit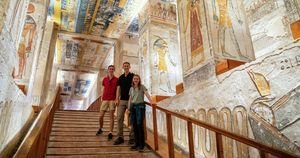 the magnificence of the grandeur of architecture used for burial,  many kings buried in this valley. The most known tombs are King Tutmosis I, Tutmosis III, Tut-Ankh-Amon, King Ramssess VI, King Mrenptah, and AmonhotepII. King Tut's tomb with an extra ticket (Not included). Continue to the Temple of Queen Hatshepsut, which was built by Queen Hatshepsut,
Hatshepsut temple
\daughter of Thutmosis I, who ruled Egypt about 20 years during the 18th Dynasty (1490–1469 B.C).
Later you will get to see the colossi of Memnon.
Memnon colossi
Transfer you to the airport and assist you at the airport through final departure formalities. Take the flight back to Cairo. Arrive & transfer to the hotel.