advantage 2 Days Luxor and Aswan
day-1
2 Days Luxor and Aswan Trip from Cairo starts with meeting Our representative will pick you up at 3:00 AM from your hotel in Cairo to catch your domestic flight to go to Aswan Arrival in  Aswan Airport at 6:00 AM. meet & assist by our representatives and transfer to visit Philae Temple.
Philae temple
and the High Dam.
Abu Simbel Temple
The colossal Temple of Abu Simbel was built by Ramses II (XIXth. Dynasty) and lately saved from the inundation of the Nile waters in among the glories of ancient Egyptian monuments. The temples were built out of a sandstone rock cliff and the representation of the deities to which each was dedicated is carved on its huge façade. Nearby, also saved, lies the small Temple of the King's wife Nefertari, dedicated to the goddess Hathor.
then transfer to your hotel in Aswan. Boarding Overnight in Aswan. the tour guide will pick you up from your hotel in Aswan to transfer you to Luxor by Car to start your visit to  West Bank to visit the Valley of the Kings advantage as well as with our tour guide, you will be taken to the Temple of Hatshepsut, and the Colossi of Memnon.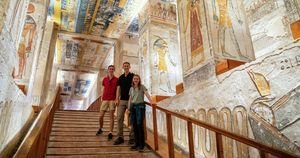 visit the tombs of various Dynasties, The Temple of Deir El Bahari. On the return journey stop at the Colossi of Memnon which are two gigantic sitting statues representing Amenophis III facing the Nile. Then visit the Temple of Queen Hatshepsut.
Hatshepsut temple
Then transfer to East Bank: Karnak and Luxor Temple Excursion to the Luxor Temple to see its courtyard and the granite statues of Ramses the Great Then transfer by carriage or bus to Karnak Temple which is serious of temples built in different reigns. Starting by the Avenue of Sphinxes visit the unfinished Propylon, the Hypostyle Hall with its 134 gigantic columns, the Obelisks of Queen Hatshepsut, and Tuthmosis III, the temple of Amon adorned with lotus and papyrus designs.
Karnak temple
the Granite Scarbeus of Amenophis III, and the Sacred Lake. Then transfer to Luxor Airport to catch your domestic flight to Cairo. Arrival in Cairo Airport, meet & assist by our representatives and Transfer to your hotel in Cairo Meals: Breakfast only