7 Days Hurghada and Cairo Holiday
Getting to explore a city that stood the test of time and one of the most beautiful visions of the tropical beauty of the Red Sea for a full seven days is a gift from heaven. Our 7 Days Cairo and  Hurghada holiday will elevate your senses as you shift from the ancient life to the marine one. For more than four thousand years.
Know more about the attractions you will visit on ( 7 Days Hurghada and Cairo Holiday )
Meet and assist upon arrival and departure.
3 Night accommodation at a hotel in Cairo.
3 Night accommodation at a hotel in Hurghada.
Entrance fees to all sites in the itinerary.
All your tours and excursions are by private A.C. Cars.
we can help you to book your flight tickets from Cairo to Hurghada and return.
Safari trip by Quads.
Snorkeling Excursion.
An expert Egyptologist guide during the tours.
International Airfare.
Egypt entry visa.
Tipping.
Day 1: Arrival in Cairo
your 7 Days Hurghada and Cairo this tour is one of our best recommendations Egypt tour packages to you will begin at the moment of your arrival at Cairo airport.
our employee will assist you in completing your passport control formalities and luggage identification & carry. From the airport. you will be driven by a private air-conditioned car to your hotel to checking-in your hotel overnight.
Giza Pyramids Complex
In the morning time, you will have your breakfast, and then join your private tour guide to begin your 7 Days Cairo & Hurghada holiday by exploring the greatest monuments starting with.
is the home to the oldest wonder in existence as it dates to more than 4000 years and holds the three main pyramids, six little pyramids, the great sphinx, and the valley temple. The Great Pyramid of Khufu is one of the most known artefacts on the planet as it dates to 2580 BC which makes it older than 4500 years old. It was built in 20 years using 2,300,000 pieces of limestone which made it one of the biggest constructions in the world even today. It stands at a height of 147 m (481 ft) which made it the tallest building on earth for 3800 years until the construction of the Lincoln Cathedral in England in 1311.
The pyramid
is surrounded by various fringe theories about its origin, and purpose. and marvellous construction.
has acted as the sole guardian of Egypt since ancient times. It is the oldest statue in the world that served as a source of inspiration to countless dreamers and travellers across the centuries even today as a lot of mystery still surrounds the statue regarding its age. purpose & origin. It has a height of 73 m (240 ft) and 19 m (66 ft) and has the shape of a mythical creature called the sphinx which has the body of a lion and the head of a man probably king Khafre as a symbol of power and wisdom.
The Valley Temple
is the place where the rules of nature were broken by challenging times with the mummification process since
(2686-2181 BC), it is one of the best-preserved structures of the ancient Egyptian civilization. made entirely from limestone, and granite and holds amazing diorite statues of king Chephren plus showcases a great deal of information about the ritual burial customs of that time. Proceed to have your lunch at a local restaurant in Cairo. Then we will move to visit.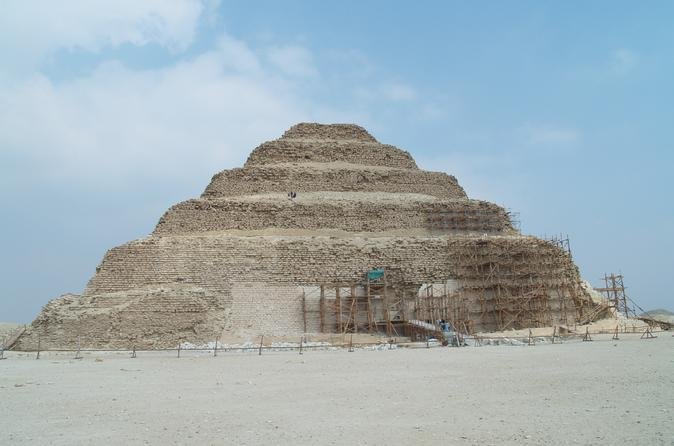 it's a kind structure in the world as the earliest large-cut stone construction. It was built by the brilliant Imhotep the vizier of Pharaoh Djoser. It has a unique design as it is made of six steps and stands at a height of 62 m. The pyramid is surrounded by a complex which was the first of its kind containing beautiful decorations and majestic ceremonial structures that started the golden age of construction.
Memphis city was known for being the land of Endurance and beauty, founded by King Menes to be the life of the two lands. and the first official capital. It is the home of the god Ptah the patron of creation and artwork. It holds a lot of monuments dating to more than 4000 years to some of the biggest names in Ancient Egypt like Ramses II and great temples to gods and goddess-like Aton & Hathor. Finally, we drive you back to your hotel overnight.
Cairo Museum

Tour to the Egyptian Museum & Cairo's Old Landmarks After you have your breakfast and check out from the hotel, you will continue your tour 7 days Cairo & Hurghada Holiday by exploring
where the magical heritage of Ancient Egypt resides, it is one of the biggest museums in the world and holds a number of great artifacts and monuments dating to more than 4000 years from all the various time periods. There is a display of mummies of some of the biggest names of ancient Egyptian history. There are over 120,000 rare genuine made from extravagant materials like gold or jewelry to ordinary ones like wood or stone that come in the form of statues, jewelry, and funerary objects, the most visited artifacts are the treasures of King Tutankhamun.
Lunch will be served at a local restaurant in Cairo then proceed to visit.
 Salah El-Din Citadel
has gained the name of "Cairo Citadel" as it looks & completely towers over the entire city of Cairo when its construction was completed in 1182 AD by the great conqueror Salah El-Din. It served as the center of the rule and a defensive powerful fortress against the crusaders & napoleon's French invasion late on in the 19th century. it became the headquarters of the government. Within the citadel lies a hall of justice, an arsenal, entrance routes, four palaces, a huge terrace, and numerous gates mosques holding breathtaking designs.
Muhammad Ali Mosque is known as the alabaster mosque which is a majestic work of artistic design. It was constructed between 1830 and 1848 AD to be a replica of the blue mosque in Istanbul. and act as a symbol of independence. and freedom against the Ottoman Empire royal law prohibited anyone except the Turkish sultan from constructing a mosque with more than two minarets. The mosque is breathtaking with its ottoman-style architecture of French rococo influences with enchanting finishes of ornate red, green, gold, and a great dome.
At the end of the day, you will head to Cairo airport then fly to Hurghada and check in at a 5*hotel where you will spend the overnight.
Hurghada Excursion
Safari Excursions in Hurghada On day four, you will have your breakfast then you & your guide will discover the beauty of the desert during your safari trip by quad.
Snorkeling Excursion in The Red Sea
On day five, you will enjoy your breakfast then join your instructor for an amazing snorkeling excursion in the Red Sea.
On Day Six, after you have your breakfast, you will check out from your hotel in Hurghada and then catch the evening flight to Cairo where you will spend the overnight.
Final departure from Egypt
On your Final Day, you will have your breakfast then you will be transferred to the airport where you will end your 7 days on Cairo and Hurghada Holiday and return home safely. P.S. You can share your thoughts about adding or removing any tours from your tour itinerary to be able to accommodate your requirements and fulfill your needs.
Prices are quoted in US Dollars per person per trip except during Christmas, New Year & Easter holidays.
Please note: the price variance depends on group size.